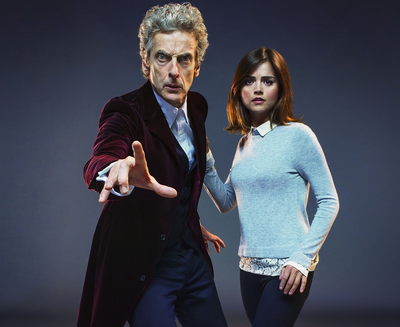 The Ninth Series of revived Doctor Who was confirmed by Executive Producer Steven Moffat in 2014 after the conclusion of Series 8. It continued Peter Capaldi's Twelfth Doctor and Jenna Coleman's Clara Oswald adventure's in time and space over 12 episodes which started on the 19th of September 2015.
The BBC Offical press release reads:  'Exploding with epic and thrilling adventures, Doctor Who returns to BBC One on Saturday 19 September in the ninth series of the hit show.  'The Doctor (Peter Capaldi) is joined by Clara Oswald (Jenna Coleman) for time travel on a cinematic scale. Having the time of their lives, the pair go on a journey that takes them to deadly alien planets, creepy underwater bases, Vikings villages, a global Zygon uprising, leading them through hidden alien dens and to the very end of time itself. The Doctor will come face to face with Missy (played by Michelle Gomez), a city of Daleks, deadly mercenaries called the Mire, terrifying ghosts and far more.'
The series recieved critical acclaim from critics citing the run as one of the shows best, hilighting the evolved dynamic of Clara and the Doctor, the darker tone, two part stories and Peter Capaldi's performance. However the run also marked a decrease in the show's viewing figures. With an average of 6.03 million viewers tuning in compared to 7.26 for Series 8 the previous year. 
Main Cast 
Edit
Peter Capaldi - The Twelfth Doctor (14/14)
Jenna Coleman - Clara Oswald (13/14)
Recurring and Returning Cast 
Edit
Maise Williams - Ashildr (4/14)
Michelle Gomez - Missy/The Master (2/14)
Jemma Redgrave - Kate Stewart (3/14)
Ingrid Oliver - Osgood (2/14)
Alex Kingston - River Song (1/14)
Clare Higgins - Ohila (2/14)
Joivan Wade - Rigsy (1/14)
Samual Anderson - Danny Pink (1/14)
Guest Cast  
Edit
Sophie Stone - Cass (Episodes 3,4)
Morven Christie (Episodes 3,4)
David Schofield (Episode 5)
Rufus Hound (Episodes 6)
Rebecca Front (Episodes 7)
Reece Shearsmith (Episode 9) 
Bethany Black (Epsiode 9)
Executive Producers: Steven Moffat, Brian Minchin
Producers: Paul Frift, Derek Ritchie, Niki Wilson
Writers: Steven Moffat, Toby Withouse, Mark Gatiss, Catherine Tregenna, Paul Harness, Jamie Mathieson, Sarah Dollard.
Directors: Daniel O'Hara, Hettie McDonald, Ed Bazalgette, Justin Molotnikov, Rachel Talalay.
Soundtrack: Murray Gold 
Episode List (2014-2015)
Edit
Episode No.
Episode Title
Director
Writer
Broadcast Date
Special Episode (Christmas 2014)
9.01 (117)
"Last Christmas"
Paul Wilmshurst
Steven Moffat
25 December 2014

'Every Christmas is Last Christmas, and this is ours.'

It's Christmas, the Doctor and Clara are drawn back together. An Artic Base is attacked by a mysterious organism which creates the perfect dream while it kills you. Question is how do you know a dream when your in one? It's a long story.

Story Notes: Final apperance of Danny Pink. 

Regular Episodes (Autum/Winter 2015)
9.02 (118)

"The Magician's Apprentice"

Hettie McDonald
Steven Moffat
19th September 2015

'Say something nice.'

When the skies of Earth are frozen by a mysterious alien force, Clara needs her friend. But where is the Doctor, and what is he hiding from? As past deeds come back to haunt him, old enemies will come face-to-face, and for the Doctor and Clara survival seems impossible.

Story Notes: Return of Missy, Davros and the Daleks. First apperance of the Confession Dial. 

9.03 (119)

"The Witch's Familiar"

Hettie McDonald
Steven Moffat
26th September 2015

'The friend inside the enemy, the enemy inside the friend.'

Trapped and alone in a terrifying Dalek city, the Doctor is at the heart of an evil Empire; no sonic, no TARDIS, nobody to help. With his greatest temptation before him, can the Doctor resist? And will there be mercy?

Story Notes: Davros mentions the Hybrid prophecy. 

9.04 (120)

"Under the Lake"

Daniel O Hara
Toby Whithouse
3rd October 2015

Under a lake, in the dripping gloom of an underwater base, stands a gleaming black space ship, recovered from the lake bed. The Doctor and Clara arrive to find a base under siege from beyond the grave. But how can the dead be walking? What has brought them back? When the Doctor discovers the truth, it is more terrifying than any simple ghost story.
9.05 (121)

"Before the Flood"

Daniel O Hara
Toby Whithouse

10th October 2015

In the eerie remains of a town that never was, something is stalking the Doctor and his friends. A desperate battle for survival is underway, but this time our heroes already know which of them is going to lose. With the past and the future hanging in the balance, the Doctor is breaking the rules to win the day. Can anything stop the Fisher King? And more importantly, who composed Beethoven's 5th?
9.06 (122)
"The Girl Who Died"
Ed Bazalgette
Jamie Mathieson and Steven Moffat
17th October 2015

In a little Viking village where all the warriors have been slaughtered, a young girl called Ashildr is about to make a desperate mistake. The Mire are the deadliest mercenaries in the galaxy, famed for being unstoppable and without mercy - and Ashildr has just declared war on them. The Doctor and Clara have twelve hours, to turn a handful of farmers and blacksmiths into a fighting force ready to face down Odin himself. And there's more - because this is the day when the Doctor remembers where he's seen his own face before.

Story Notes: First apperance of Ashildr. 

9.07 (123)
"The Woman Who Lived" 
Ed Bazalgette
Catherine Tregenna
24th October 2015

England, 1651. The highwayman known as The Nightmare is plaguing the land. But the Nightmare is not all he seems, and his fire-breathing accomplice who lurks in the shadows is clearly more than human… The Doctor, on the trail of an alien artefact, is brought face to the face with the consequences of his own actions. For once he encounters someone who won't let him turn his back on the things he has done.
9.08 (124)
"The Zygon Invasion"
Daniel Nettheim
Paul Harness
31st October 2015

A long time ago, the Doctor made a deal in the Tower Of London. 20 million Zygons walk among us, in human form, living undetected. But cracks are showing in this delicate peace. Humans and Zygons are disappearing. Far below the streets of Britain, alien pods are growing in secret caverns. Unit's scientific advisor, Osgood, sends a desperate message to the Doctor - but since Osgood is long dead, how is that possible?

Story Notes: Reapperance of Osgood, Kate Stewart and Jac. Return of the Zygons.

9.09 (125)

"The Zygon Inversion"

Daniel Nettheim
Paul Harness
7th November 2015

The future of planet Earth is sealed in a box in Unit's back archive, and only the Doctor knows what's inside. With Unit under Zygon control, and Clara lost, the Doctor and Osgood find themselves fugitives in a London where no one can be trusted - but the wily old Time Lord knows there is one last hope for peace.
9.10 (126)
"Sleep No More"
Justin Molotnikov
Mark Gatiss
14th November 2015

This is footage collected from a space rescue mission. If you value your life, your sanity, and the future of your species, DO NOT WATCH IT.
9.11 (127)
"Face the Raven"
Justin Molotnikov
Sarah Dollard
21st November 2015

The Doctor and Clara, with their old friend Rigsy, find themselves in a magical alien world, hidden on a street in the heart of London. Sheltered within are some of the most fearsome creatures of the universe and Ashildr. With a death sentence hanging over their heads, not all of the intruders will get out alive.
9.12 (128)

"Heaven Sent"

Rachel Talalay 
Steven Moffat
28th November 2015

Trapped in a world unlike any other he has seen, the Doctor faces the greatest challenge of his many lives. One final test. And with Clara dead, he must face it alone. Pursued by the fearsome creature known only as the Veil, he must attempt the impossible.
9.13 (129)
"Hell Bent"
Rachel Talalay
Steven Moffat
5th December 2015


'We all face the raven in the end. Thats the deal.'

If you took everything from him, and betrayed him, and trapped him, and broke both his hearts... how far might the Doctor go? Returning to Gallifrey, the Doctor faces the Time Lords in a struggle that will take him to the end of time itself.

Special Episode (Christmas 2015)
9.14 (130)
'The Husbands of River Song'
Douglas Mackinnon
Steven Moffat
25th December 2015

It's Christmas Day on a remote human colony, a crashed spaceship calls upon the Doctor for help and he finds himself recruited into River Song's squad and hurled into a fast and frantic chase across the galaxy. King Hydroflax is furious, and his giant Robot bodyguard is out-of-control and coming for them all! When will River Song work out who the Doctor is? All will be revealed on a starliner full of galactic super-villains and a destination the Doctor has been avoiding for a very long time.

Story Notes: Final apperance of River Song. 
Production Blocks  
Edit
| BLOCK NO. | EPISODES | DIRECTOR |
| --- | --- | --- |
| One | 3,4 | Daniel O Hara |
| Two | 1,2 | Hettie McDonald |
| Three | 5,6 | Ed Bazalgette |
| Four | 7,8 | Daniel Nettheim |
| Five  | 10 | Justin Molotnikov |
| Six | 11 | Rachel Talalay |
| Seven  | 9 | Justin Molotnikov |
| Eight | 12 | Rachel Talalay |
| Nine | Christmas 2015 | Douglas Mackinnon |
 Ratings  
Edit
| Title | Duration (mins) | AI (/100) | 7 Day BARB Data (m) | BBC Live+7 Figure (m) | Chart Place |
| --- | --- | --- | --- | --- | --- |
| Christmas 2014 | 60 | 82 | 8.28 | 8.55 | 6 |
| One | 46 | 84 | 6.54 | 7.41 | 13 |
| Two | 48 | 83 | 5.71 | 6.58 | 24 |
| Three | 43 | 84 | 5.63 | 6.51 | 22 |
| Four | 42 | 83 | 6.05 | 6.77 | 21 |
| Five | 46 | 82 | 6.56 | 7.19 | 19 |
| Six | 45 | 81 | 6.11 | 6.73 | 25 |
| Seven | 46 | 82 | 5.76 | 6.49 | 24 |
| Eight | 45 | 84 | 6.03 | 6.48 | 24 |
| Nine | 45 | 78 | 5.61 | 6.09 | 28 |
| Ten | 47 | 84 | 6.05 | 6.55 | 30 |
| Eleven  | 54 | 80 | 6.19 | 6.92 | 27 |
| Twelve | 60 | 82 | 6.17 | 6.86 | 29 |
| Christmas 2015 | 60 | 82 | 7.69 | 8.27 | 8 |