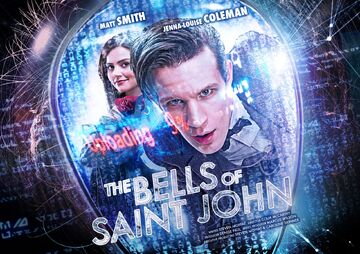 The Bells of St John is the sixth episode of the seventh series of Doctor Who. It was the beginning of a new era of the show as it was the first regular episode of the show to feature Jenna Louise Coleman as the new companion. The episode which was written by Steven Moffat deals with the internet. Miss Kizlet (Celia Imrie) helps the Great Intelligenace by uploading the general populations to a data cloud as the Doctor searches for Clara.
Episode Title:
The Bells of St John (232)
Starring:

Matt Smith- The Doctor

Jenna Louise Coleman- Clara Oswald  

Celia Imrie – Miss Kizlet

Robert Whitlock – Mahler

Dan Li – Alexei  


Richard E. Grant – The Great Intelligence

Written by:
Steven Moffat
Directed by:
Colm McCarthy
Produced by:
Denise PaulMarcus Wilson
Excutive Producer:
Steven MoffatCaroline Skinner
Airdate:
30th March 2013
Lenght:
45 minuites
Earth, 2013. A whole world swimming in Wi-Fi. A Wi-Fi soup! Suppose something got inside it. Suppose there was something living in the Wi-Fi, harvesting human minds. Something that loves and cares for humanity so much it can't get enough of it…   
Production 
Edit
Episode Notes
Edit
Broadcast and Critical Reception 
Edit
Ad blocker interference detected!
Wikia is a free-to-use site that makes money from advertising. We have a modified experience for viewers using ad blockers

Wikia is not accessible if you've made further modifications. Remove the custom ad blocker rule(s) and the page will load as expected.