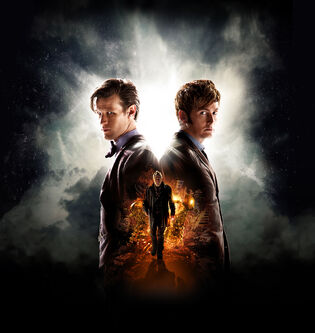 The Day of the Doctor is the 50th Anniversary Special of Doctor Who. Due to be broadcast on the 23rd November 2013, it was writtten by Steven Moffat and directed by Nick Hurran. It features Matt Smith, David Tennant, Jenna Coleman, Billie Piper and John Hurt.   
The Day of the Doctor (799)
Starring:

Matt Smith - The Eleventh Doctor 
David Tennant - The Tenth Doctor 
John Hurt - The Forgoten Doctor
Jenna Coleman - Clara Oswald 
Billie Piper - Rose Tyler
Jemma Redgrave - Kate Stewart 

Written by:
Steven Moffat
Directed by:
Nick Hurran
Excutive Producer:

Steven Moffat
Faith Panhale

Airdate:
23rd November 2013
Format:
1 X 75 minuites
COMING SOON
COMING SOON
Production 
Edit
COMING SOON
Ad blocker interference detected!
Wikia is a free-to-use site that makes money from advertising. We have a modified experience for viewers using ad blockers

Wikia is not accessible if you've made further modifications. Remove the custom ad blocker rule(s) and the page will load as expected.