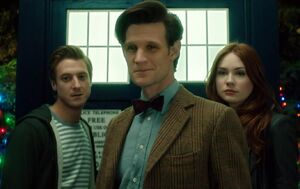 The Power of Three is the fourth episode of the seventh series of revived Doctor Who. The episode's focus is on Amy and Rory's life at home as they try to decide their future; should they travel with the Doctor. This is the penultimate episode to feature Karen Gillian and Arthur Darvill in their roles. 
7.4 The Power of Three (229)
Starring

Matt Smith - The Eleventh Doctor 
Karen Gillian - Amy Pond 
Arthur Darvill - Rory Williams 
Mark Williams - Brian Williams 
Jemma Redgrave - Kate Stewart
Steven Berkoff - Shakri Hologram

Written By
Chris Chibnall
Directed By
Douglas Mackinnon
Excutive Producers

Steven Moffat 
Caroline Skinner

Airdate
22nd September 2012
Format
1 X 45
Production 
Edit
Reception
Edit
Ad blocker interference detected!
Wikia is a free-to-use site that makes money from advertising. We have a modified experience for viewers using ad blockers

Wikia is not accessible if you've made further modifications. Remove the custom ad blocker rule(s) and the page will load as expected.